A.L.B.A.'s torch cutting machine designed to be used in CC plants for cutting billets, blooms, beam blank and rounds are well known for their reliability, ruggedness and short cutting times. They can work in full automatic, semi-automatic or manual mode achieving the best performances as well as cutting results.
Each oxy-cutting car is equipped with high performance high speed water-cooled torch type ALBACUT with integrated pilot flames and contain the granulating system, fluid control system, cooling system and all the other necessary equipment and safety devices.
The machine structure, clamping system and torches are water-cooled by a controlled flow and protected against sparks by heat shields and provided with automatic centralized greasing system for easy maintenance.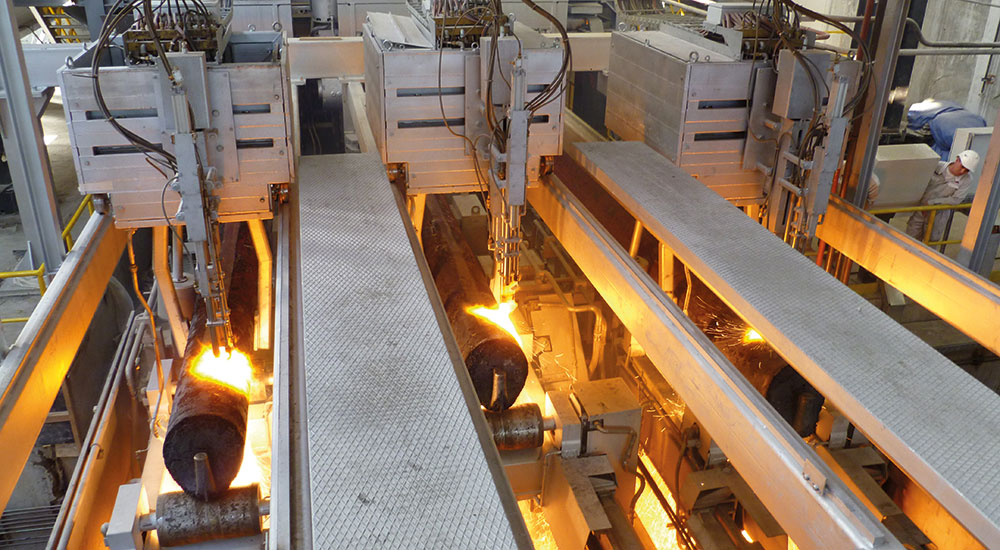 Special features
The machine could also be equipped with the following special features as an option, if required:
– Measuring rolls for billets length detection;
– Second torch for in line sample cutting with pneumatic up/down system;
– Up/down system for torches automatic high adjustment for different billet thickness;
– Iron powder injection system for stainless steel cutting;
– In-line oxygen deburring system mod. S.A.C.
Under the sequence, the cutting cars are clamped onto the strand by a pneumatic clamping device. In this way synchroo nous running of the machine is guaranteed. Then, the cutting cycle will start with the heating phase and cutting. After termii nation of the cut, the cars will be released from the strand opening the clamp. They return with an independent motor into the starting position to be ready for the next cut.
Designed and manufactured considering all the necessary conditions in order to avoid risks for personnel and plant during the use and maintenance of the machine, it will be equipped with all the required safety devices according to all international standards.
The machine is based on a proven technology with high reliability and low maintenance and is specifically developed to offer high performances in heavy industrial environments.
The billet/bloom torch cutting machine is CE certified and developed according to the UNI EN ISO 9001:2015 quality standard.